Nancy the Nurse
Ref: 30032
Age Range: 10 Months +
Regular price
Sale price
£2.50
Unit price
per
Sale
Out of stock
Create your own playset
*Purchase minimum quantity of 5
Play Figures, Animal Friends or Extras
Nancy the Nurse is loved by all her patients and can be played with on her own, with other Play Friends and Animal Friends and is also compatible with all WOW Toys. All Play Friend figures have been designed with their thumbs up so they can never pose a choking hazard for children from 10 months old. Packaged in attractive recyclable paper gift bags.
Play Friend figure dimensions: L: 40mm H: 60mm D:20mm
Benefits

Suitable for children ages 10 months - 5 years
Encourages development of motor skills
Inspires imaginative and creative role-play
All figures meet the same safety standards as you expect from a baby's bottle
No PVC, no toxic paint, no Phthalates BPA free, no small parts
Easy to clean, dishwasher safe figures
All figures are compatible with WOW Toys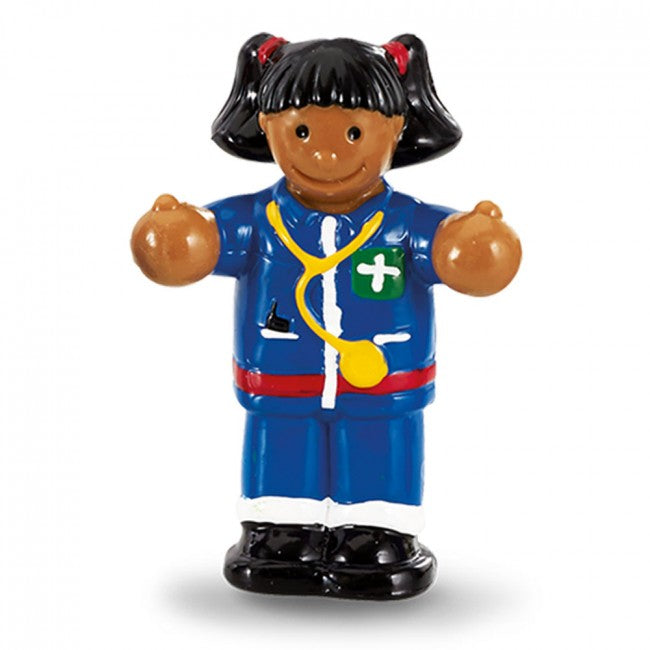 Designed with children in mind
All figures can be cleaned in the dishwasher.
Designed with thumbs up so that figures are super safe and never pose a choking hazard to a child of 10m+.
Hand painted with toxic free paint, making all our figures unique.